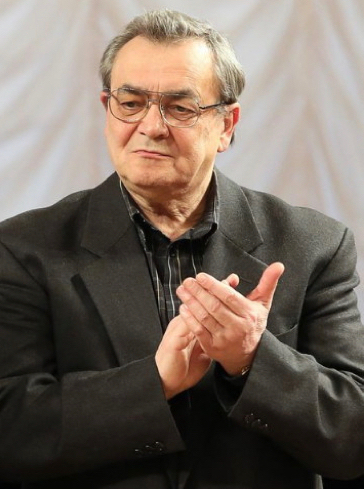 A central figure of contemporary Ukrainian music, Yevhen Stankovych was born in 1942 in the city of Svaliava in Zakarpattia Oblast.
His compositions include six symphonies, six ballets, oratorios, instrumental concertos, chamber works and music for over 100 films. Stankovych's music has been performed by major orchestras and ensembles throughout the world.
Beginning with his first compositions, Stankovych declared himself as a composer of dramatic temperament, not adverse to emotional risk. His music reminiscent of the instrumental style of Baroque music, elicits warmth and expressiveness as well as displays  his emotional freedom, consummate technical mastery and flexibility of form.
In 1992 he composed a very powewrful composition, Ukrainian Requiem, memorializing the victims of the Ukrainian Genocide-Famine of 1932-1933, one of the most largely overlooked heinous crimes against humanity of the 20th Century.
There are emotions that can be expressed only by music. The composition, Ukrainian Requiem,  written for orchestra, and choir  by Stankovych and based on Dmytro Pavlychko's text  has a intensely powerful spiritual strength that can't be described.
What is the secret of this music? While listening, this solemn musical tribute evokes a deep sadness and despair, yet upon its conclusion the music awakens a feeling of tranquility. In one work Stankovych managed to do the impossible: convey  the unspeakable pain of millions of people, touch one's soul with emotion and  at the same time envelop a hopefulness and conviction.